This year, SIGGRAPH hosted the
VR Village
, a new venue dreamt up by Ed Lantz, which featured, as one might suspect, a sampling of current virtual reality projects. What set this apart from many other VR smorgasbords was that the focus was more on the content (as it arguably should be) than on the technology. Some exhibits were focused on education, entertainment, or ability to do brand promotion, which is to be expected of course. But a handful were intent on pushing the artistic possibilities of the medium.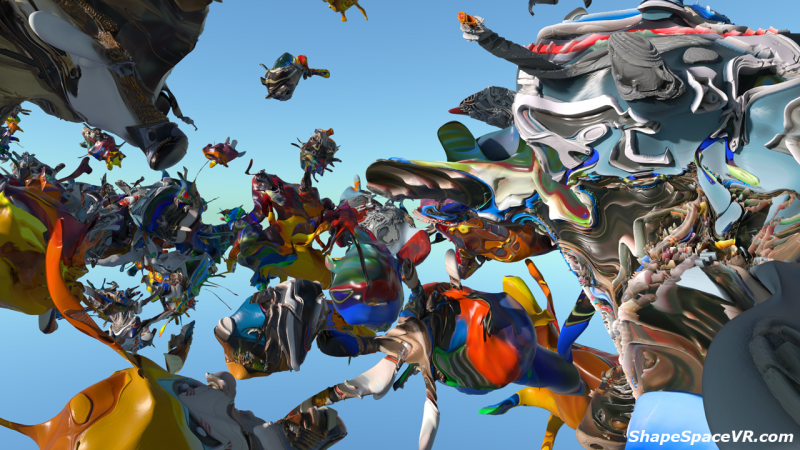 The fantastical work of Kevin Mack (
Shape Space VR
) was sort of a dynamic Chihuly manifestation of a Tanguy landscape, in which the viewer is essentially immersed in a school of dynamic molten glass objects swimming past; their form and texture undulating in a subtle and yet apparent manner. One expects to be swallowed by one of these weightless, modulating entities as they slowly storm towards you, but somehow they pass harmlessly, giving the eye a sensuous technicolor treat as they float by just out of reach.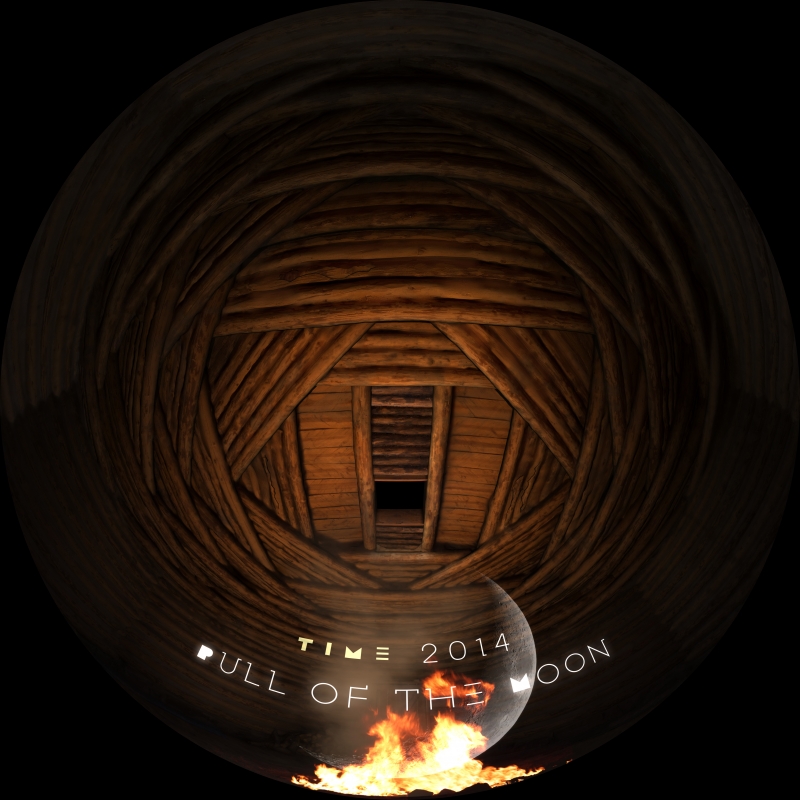 TIME - Pull of the Moon, a piece by Eric Hansen (
xRez Studio
) was based in part on a collaboration between Chinese artist Ai Weiwei and Navajo artist Bert Benally. The experience is decidedly more representational than Mack's work, but at the same time more of a spiritual rendering. The experience begins in a sweat lodge with an intensely burning fire, but soon the viewer is lifted as if by the heart through the smoke-hole in the wooden structure and carried high over the craggy desert landscape to witness an iconographic Weiwei sculpture from overhead, itself inhabited by ghostly human figures from another time and/or place.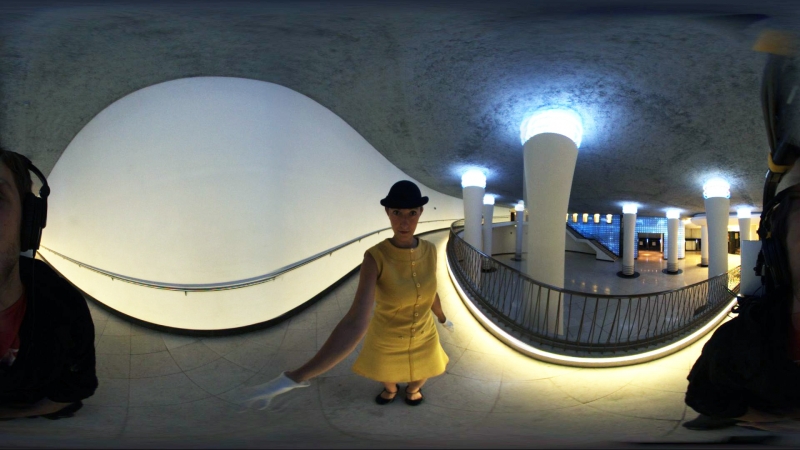 The most transformative piece, in terms of shifting one's perceptions about location, personal space, and time, was the unceremoniously named C.A.P.E. (Computer Assisted Personal Environment), produced by Eric Joris (
CREW
). The immediately obvious differentiator was that, rather than being safely seated while being lead through this experience, C.A.P.E. required you to actively participate by walking around in the real world at the same time as you are traveling through a virtual cityscape.
Once you have donned your gear, the 15-minute experience commences with a gentle Belgian tour guide taking your virtual hand and leading you through her beloved Brussels. Simultaneously, in the real world, the guide's physical avatar (a live gallery assistant) holds your actual hand in the same manner, directing you as your clumsy legs traverse the concrete floors of the exhibit space in what may look to others as a strange human-cyborg dance. While it might sound like a gimmick, it is actually quite effectual. The result is a pleasantly uncomfortable feeling of being in two different, but parallel, worlds at once.
It was encouraging to see these three very different artists exploring divergent aspects of the cinematic VR medium, and exciting to see them side-by-side in a single location. We are hopeful that these vectors provide fertile ground for an increasingly wide range of future creative endeavors.