Details

Written by

Greuel

Category: Articles
Janet Cardiff's The Forty Part Motet, a rendering of Thomas Tallis' Renaissance masterpiece Spem in alium ("Hope in any other") c. 1570 is nothing short of phenomenal. This polyphonic choral work is of an early music form known as a "motet", in which varied voices play against one another to create a rich tapestric whole. In this case we have a forty part composition, made up of eight separate five-voice choirs. A beautiful work to behold in its own right, it is further enhanced in Cardiff's separation and spatialization of the voices.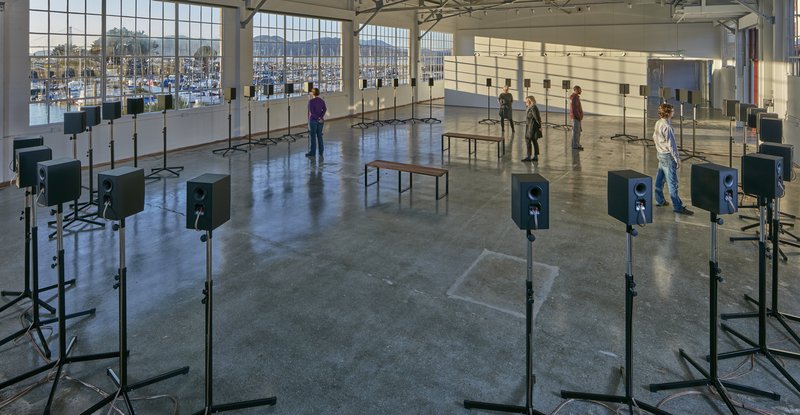 Details

Written by

Greuel

Category: Articles
The recently concluded North American tour of the VR Film Festival, organized by artist agency Kaleidoscope, showcased a large number of creative works of virtual reality. But it also demonstrated that there are many different facets to this relatively "new" medium.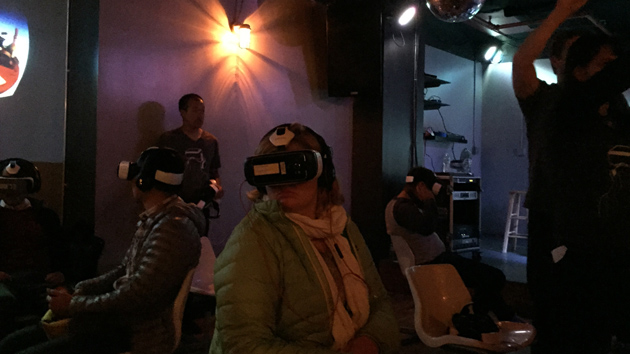 Purists from the earlier wave of VR (1980s-90s) may hold firm to the classic definition of virtual reality as an immersive, navigable, and interactive 3D world. However, the current wave has a new flavor, commonly known as Cinematic 360 (or 360 for short). Essentially this is a spherical video that is projected in virtual space around the viewer to create the illusion of being in a specific location. Think QuickTimeVR with a head-mounted display. The result can be quite effective, with the trade-off being that 360 viewers cannot freely navigate the scene nor can they interact with it. Blasphemy for some, but artistically, it's really just another choice in medium. 
Details

Written by

Greuel

Category: Articles
We walked quickly through the all-too-real world of San Francisco's Tenderloin district to see first-hand what was touted as the first theatrical play to premier live on stage and in virtual reality (VR) at the same time. Stepping around limp bodies, past street-side transactions, and over sundry detritus, we made our way deeper and deeper into the belly of the beast.
The destination, a restaurant and club called
Pianofight
, could not have contrasted more with the world outside, with its milk-white tech worker clientele, portobello mushroom burgers, assorted microbrews, and the lamest of 70s light rock. Further inside, we were handed 
Google Cardboard
(TM) viewers and ushered through a door leading to a small black-box theatre. On stage surrounded by filing cabinets and stacks of paper files sat a lone man: shackled and hooded.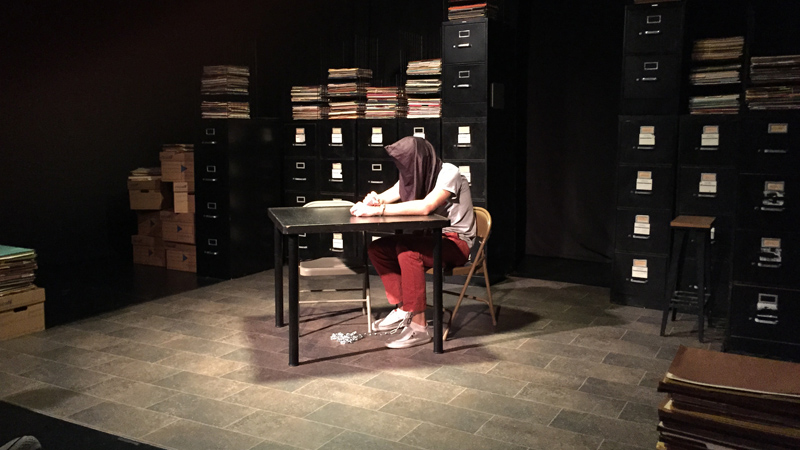 The scene that greets patrons as they enter the theatre to see Don't Be Evil.
Details

Written by

Greuel

Category: Articles
Last night's exhibit, "
Inside Real Virtuality
" by 
Artanim
at Swissnex SF, in which viewers were randomly selected to enter an underground environment of an Egyptian pharaoh's tomb, was not quite a true exercise in virtual heritage. For that, one might hearken back to the work of Fabrizio Funto at 
Infobyte S.p.A.
in the mid-1990s. Funto's team endeavored to accurately replicate places of cultural significance that were in danger of being lost (recall his reconstruction Basilica of San Francesco d'Assisi, destroyed by an earthquake in 1997) and present the results in a virtual reality context. What Artanim adds to the mix in 2015 is the ability for explorers to now bring heir bodies along into such an archeological space.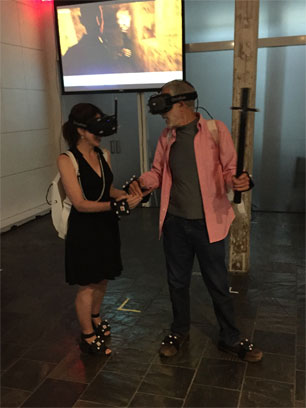 Details

Written by

Greuel

Category: Events
This year, SIGGRAPH hosted the
VR Village
, a new venue dreamt up by Ed Lantz, which featured, as one might suspect, a sampling of current virtual reality projects. What set this apart from many other VR smorgasbords was that the focus was more on the content (as it arguably should be) than on the technology. Some exhibits were focused on education, entertainment, or ability to do brand promotion, which is to be expected of course. But a handful were intent on pushing the artistic possibilities of the medium.